TODAI Class

This class is absolutely the top class for preparation of the top universities, like Tokyo University, Kyoto University.

Advanced Class

This class is open for only the students who have JLPT N1 and preparation for the prestigious universities on Japan in name and in reality of Asia.

Upper Intermediate / Intermediate Class

This class is the preparations course for JLPT N3-N1, University Foundation and preparations for EJU as well.

Beginner Class

Starting from Hiragana, Katakana, and the students will study basic grammars and the vocabularies.

We draw up a curriculum individually each class so that all the classes will be appropriate students' success for favorite university exams.
Including how to write research proposals, preparation for interview exams, JLPT and EJU, we lecture for the student's higher exam achievements.
Specialized Lessons for Postgraduate preparation



Specialized Lessons for University exam preparations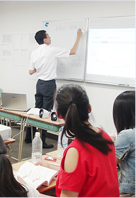 For EJU exams, we provide free lessons of Math and Physics. In the lessons, English, Chinese and Japanese language is available.

The discussions and workshops

The discussions and workshops will be organized by respected students' autonomies, and as for these curriculums, the students will independently manage the past exam collection exercise and specialized books reading exercise separating with 5 subjects of the Literatures, Linguistics・Languages, Sociologies, Economics, Managements. During the curriculums, the teachers with specialized knowledge will always stay in the class, and the students can receive advice from the teachers applying to the necessities. Therefore, Students can deepen their own knowledge not only from the ordinal lessons but also from the wide, comprehensive and necessary factors for students. The students can take these lessons for free.

Individual Lessons

The class teachers will do the individual lessons with student one-to-one. Mainly checking a graduation thesis and making research plans for master course, in some case, making application doc etc, we provide these lessons applying to each student's necessities. The students can take these lessons for free.